I know it's been forever and a day (more like forever and a year)...but I wanted to share with you my thoughts on theBalm's Nude'Tude palette. It's an eyeshadow palette that has 12 neutral-ish colors that I think is a pretty good mix for both everyday and special occasions. You can get it on their
site
for $36 (and free shipping ANYWHERE in the US) or, I've heard you can find theBalm at TJ Max or Marshalls, but I am not too sure about the validity of that.
All twelve shades have names that start with an "S" not too sure why...because there are no S's in the name, but any who...
Here's the whole thing. There's two versions: Naughty and Nice. I chose the "nice" one because the "naughty" one had six girls posing and each pan covered their private areas, and I thought that would be just weird to look at every morning when I get ready...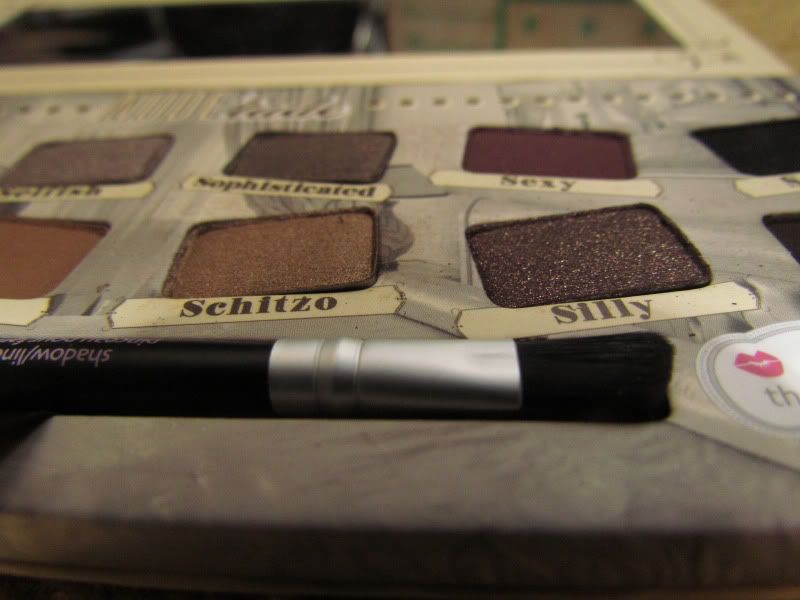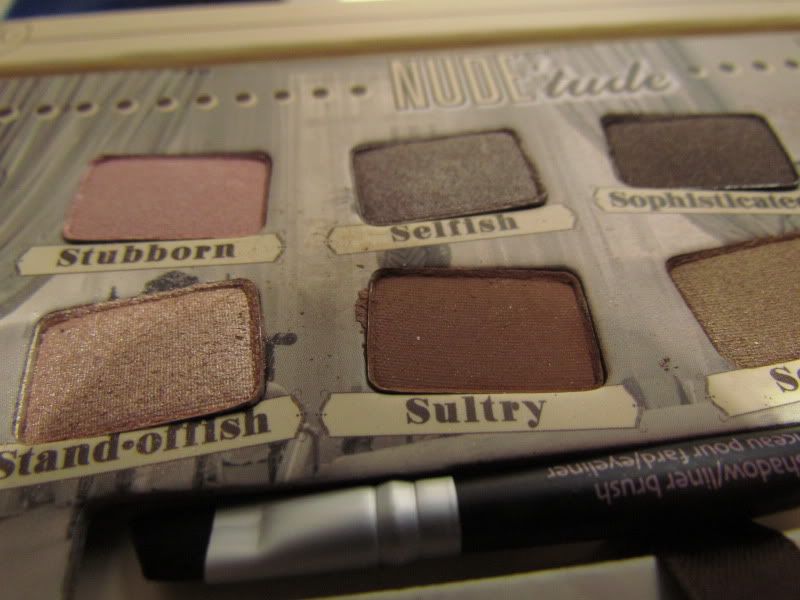 I thought it was interesting (although it doesn't directly affect the quality of the product) that the pans weren't inserted into their slots very well. Like I said, it's interesting, but I must say, this company is newer, and from what I have heard it's quite small too. Not that I am saying this is a good excuse, but I don't think it's easy to run this type of facility, especially domestically.
Here are the colors...excuse the lack of swatches!! Not as an excuse, but the colors are pretty accurate to what they look like on skin: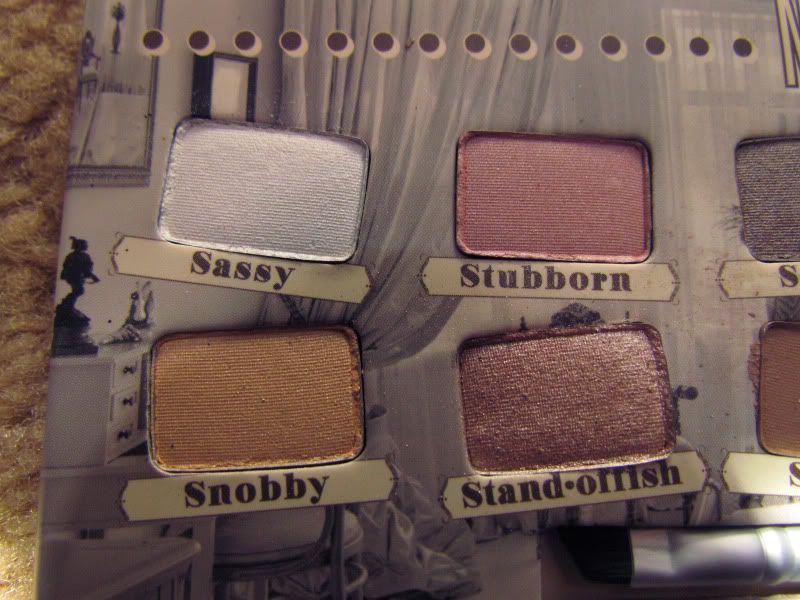 Sassy
: Frosty white, very easy to use too much. I like to mix it with a matte, skin tone color to highlight the brow.
Snobby: Shimmer/satin gold/mustard like color, I haven't used it much, too yellow for me.
Stubborn: Shimmer/satin pink, more warm than cool toned, I haven't used this much, but I think it makes for a nice blush color.
Stand-Offish:
frosted champagne/pinky flesh tone, very similar to UD Sin. I like this for either the lid (for a more toned down look), and/or to highlight the inner corners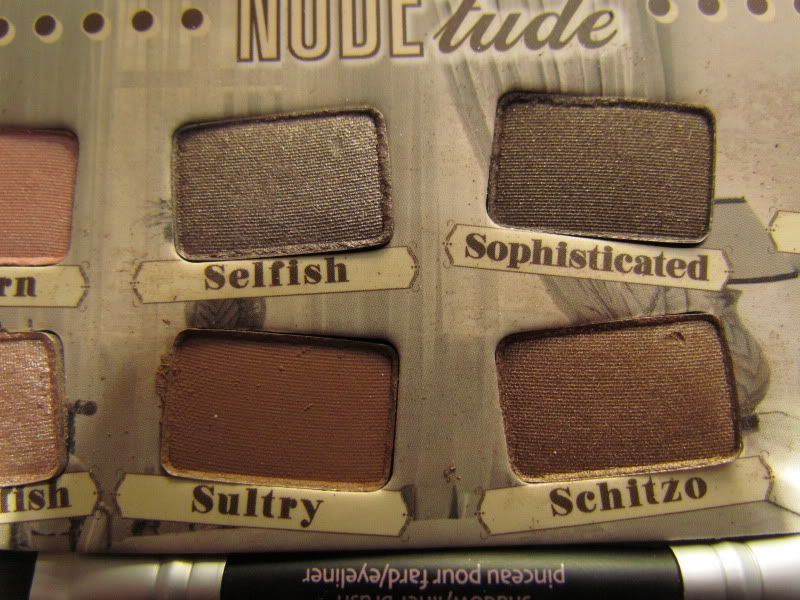 Selfish
: Silvery/frosty, taupe-ish color. I use it either as a main lid color or a outer corner.
Sultry: Matte, warm toned, medium brown. I use it to blend harsh lines, like with UD Naked, but this is a bit darker.
Sophisticated: Gold/frosty medium-dark brown. I use this to smudge liner or in the outer corner. Sometimes I use this as a lid color, if I'm feeling it...
Schitzo: Bronze/frosty, medium brown.
With Selfish, Sophisticated, and Schitzo, I feel these are super similar (Sophisticated being a bit darker than the others), probably one would have been enough...I probably would choose Selfish, the more neutral toned one.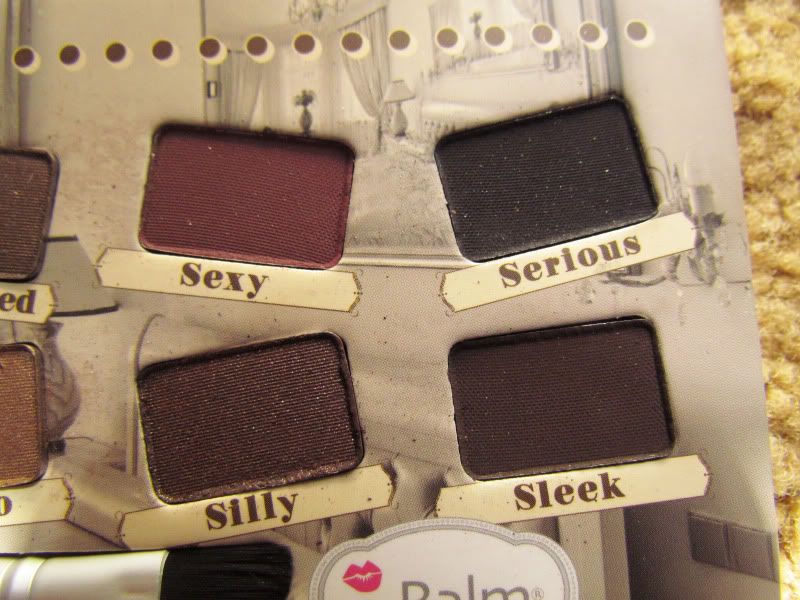 Sexy: Matte, dark, red-plum. This is a good accent color, whether in the crease or on one or both lash lines
Silly: Sparkly dark brown. I admit the finish doesn't translate...more dirty and matte (or actually satin-ish) than anything.
Serious: Matte black with some sparkle throughout, this also translates just matte :(
Sleek: Matte dark, almost black (but you can tell it's not) brown. I mostly use this to set liners or as an outer corner color.
You can interchange Silly and Sleek in reality. Sexy, I don't use much (pretty fitting for me in general :P).
The Good:
I like this range of colors. Although some of these can be used in place of one another, they are still different, so it gives options, although subtle in differences. To be honest with you, I think that this captures a mix of the good tones in the original Naked and Naked2 by Urban Decay. The sparkly shades do not have the fall out that Urban Decay glitter shades are famous for. I find that these shades are also pretty true to pan color, meaning what you see is what you'll wear, color-wise.
The formula of these eyeshadows are really nice. They are very pigmented and they blend nicely. Although they can be a little soft (when you put your brush in it, it gets super powdery), the right brush will capture all that goodness. I like using really dense brushes, nothing too fluffy (unless you're blending), that way, it catches the product and doesn't make a huge mess.
The Bad:
I actually don't have much bad things to say about this palette. The one thing that gets me, as with almost any company is the fact that the highlight colors are too shimmery for me. I always end up reaching into either of my Naked palettes and using either Virgin (original Naked) or Foxy (Naked2) to highlight my brow area. I am an oily chiika and when I wear things that are too frosted up there, I initially just look awkward in general, but then when the day goes by, that area will look like a grease ball too! I like Virgin because although it has some frost to it, it really doesn't translate as frost...more of a sheen/glow :) that was one of my surprising to like colors of the original Naked actually, and I wish Sassy (the white) was something more like that. Another thing is that the finishes of the more sparkly shades, the shades that had matte shadows with sparkles mixed in, fell a little flat. This ends up being not the biggest con for me mostly because it makes this palette more fitting into an everyday type of deal.
FINAL THOUGHTS:
In the end, I could use this palette everyday if it was my only neutral palette, but unfortunately due to hype and impluse purchasing, it is not, so I really do end up reaching for this thing more than not, so I would say this is my recommendation for those that want a good range of neutral shimmery finished colors...it will do you well. I have read up and price per unit, this is not the bargain by any means, but the formula of these colors are really nice, and consistent throughout the whole palette. I hope to be trying out more eyeshadows from theBalm, but since Sephora no longer carries the line and ebates does not have offers for the site, I may just have to wait for Black Friday to come around again.
Do you have this palette? Do you like it, or do you prefer something else? What is your favorite neutral palette??