So it would be a pretty big understatement to say that I bought a lot of nail stuff this past week. Let me just recap a bit: earlier in the week, Kali (from Kali's Nail Supply) had tweeted that she put more nail polishes in the $2 box. I LOVE the $2 box. The things that go in there are actually still good stuff, it just may be discontinued, or the packaging was done wrong, so they can't sell it at full price anymore. And, in commemoration of their 25th anniversary, they did a 50% off the entire store for their "First Sunday/Monday" sale they do monthly. I HAD to take the opportunity to check it out. So, the big sale was today, and I really wanted to get more stuff, but I really had to limit myself to just essentials. So, I got nail polish remover, a file, LOTS of top coat, and glitters. Here's what I got from all this maddness:
DISCLAIMER: I still haven't gotten the hang of taking these types of pictures, so some of them look a little overexposed, some underexposed, and some are out of focus...SORRY!!
$2 Polishes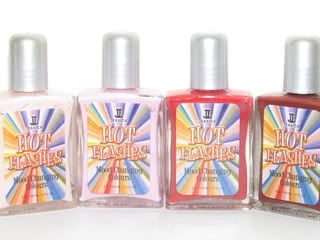 Left to right: Breakdown Blue (light blue to pink), Patient Pink (light pink to white), Fearless Fuschia (fuschia to pink), Paranoid Purple (purple to pink)
These Jessica Polishes were kind of a disappointment unfortunately. They're supposed to be color changing , according to their temperature, but they don't work that well. The other thing was that they're really sheer, so it took I think 4 coats to get it nice.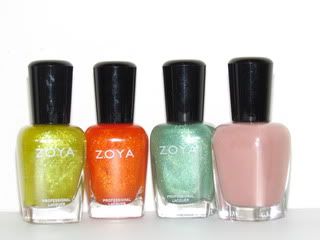 Left to right: Manhattan, OC Codler, South Beach, Bridgit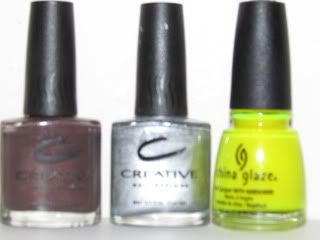 Left to right: Chily Secret, Times Square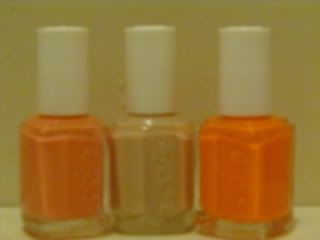 Left to right: Hello Hello, A Lot Of Shekels, Bright Tights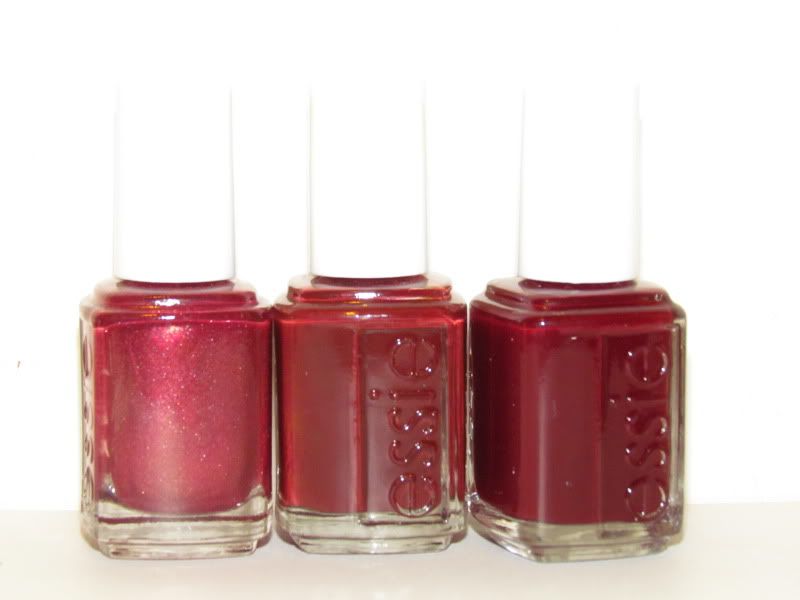 Left to right: Shower Popper, Handle With Flair, Lacy Not Racy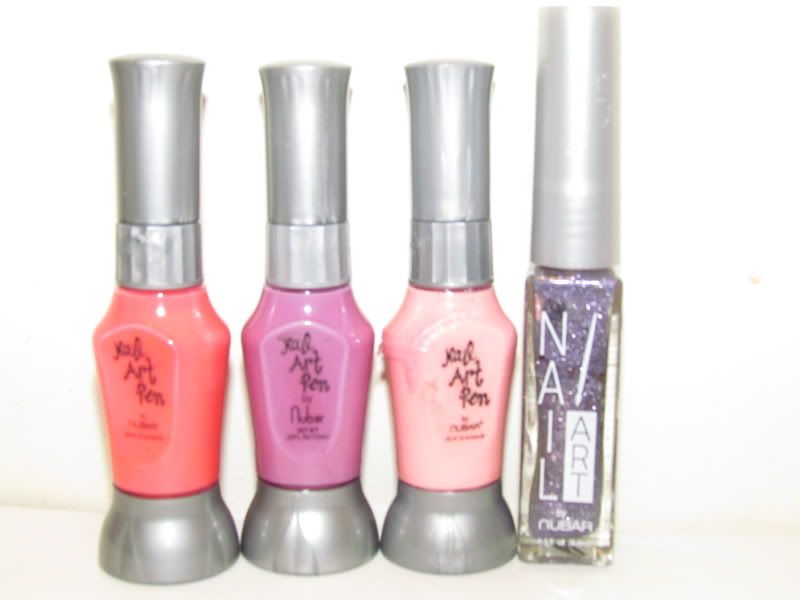 Left to right: Baby Girl Pink, Spring Lining Lavender, Baby Girl Pink, Purple Glitter
I know what you're thinking...they're the same color? I don't have a definite answer, but my guess is that it one of the two was incorrectly produced, and since they had different labeling (on the bottom), I assume one was in the box because it was "old" and the other because the color was wrong. That's purely my guess.
These are the nail art ones. The three on the left have a nail art brush and a pen in the top. I have one of these, and the color got really whack after a while, I think it was because of how I stored it (in sunlight), so I'm hoping for the better in these. The one on the right is a glitter, I think it's a clear base with purple glitter. All are by Nubar.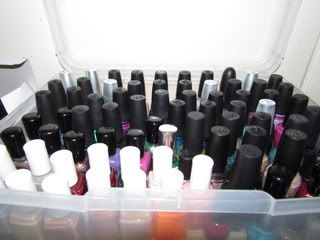 So, after all that madness, I don't have room in my box anymore. It's totally full, and I still have other stuff to store. I am on the search for more storage!
Here's those essentials that I got from today's sale: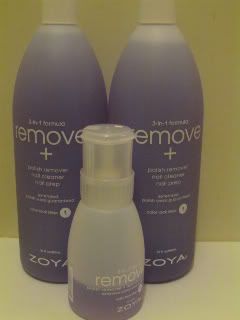 Zoya remove + is one of the best nail polish removers I ever used. As you can see I got that small bottle a while back, and I like that flip top thing, you can push down on it and it will dispense the product. This is way better than placing your nail wipe (or cotton ball) on your bottle opening and flipping it over, risking spillage and dried out skin. It's not just the bottle I like though, it's the product. It removes nail polish without really drying out my skin a lot. I used to use the pure acetone, which is actually not too good for your skin, or your eyes (your cornea to be exact), but it was the fastest way to remove polish and glitter. Now that I found this one, I think I will stick to it because it removes glitter pretty well too, not as great as pure acetone, but it doesn't take years to get the stuff off my nails :) I bought the big bottles because I can just refill, that's no issue, and it's a better value ;)
The BEST top coat EVER! Enough said!! Hah...This really is my favorite. It not only dries quickly, but it's super shiny, and it self levels, so when I use glitters, my nail is left pretty smooth after I apply this top coat :D
Now, I know glitter isn't really an essential, but to me it IS!! I love China Glaze's Nova, and I wanted to try Techno. They're both silver holographic glitters, but Techno has medium and large hexagonal pieces, and Nova just has the medium ones. Also on the far left is Nubar (I WILL GET THE NAME SOON!!). Just figured I'd try it since it was half off ;)
Also, a few weeks ago, Zoya did this massive sale online to its account holders. They were pressuring all their facebook followers to make sure they had accounts because that was the only way you had access to the sale. The deal was buy one get one free for their entire summer collection for this year...PLUS only $2 for shipping. I couldn't believe my eyes, AND to note...they shipped to Hawaii, which is quite spectacular because many companies do not ship nail stuff here. Of course this sale was pretty neat, but unfortunately, I don't have all the money in the world, so I only got these four colors: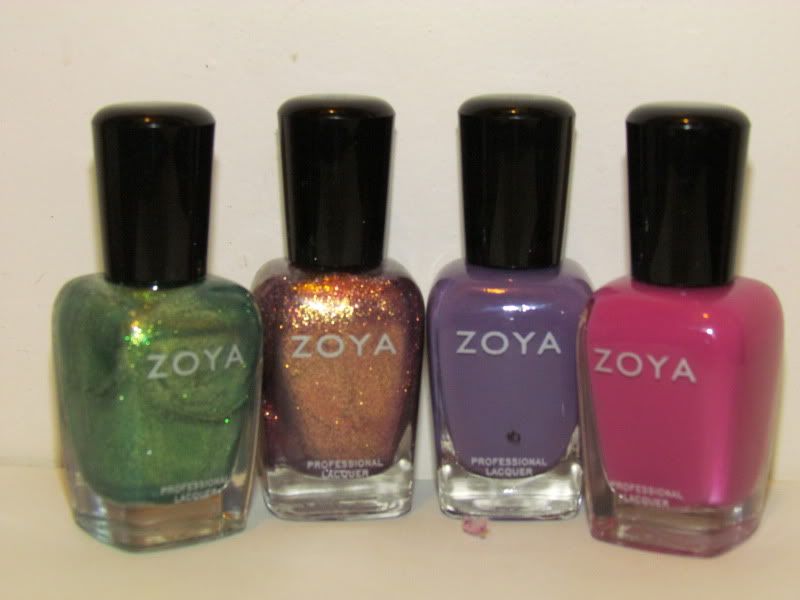 Left to right: Apple, Faye, Mira, Areej