After that
allergic reaction
I had earlier in the month, I noticed my skin is not returning back to the state pre-reaction. It's quite upsetting because I thought I had already dealt with pretty bad acne (in high school), and struggled to maintain somewhat low key of a status with it. I am probably going to have to see my dermatologist in the coming weeks to see what we can do.
I'm not gonna lie: my skin was never at any point in time perfect, but this is getting too far from being where I want it to be.
Here's some pictures where you can really see my skin erupting: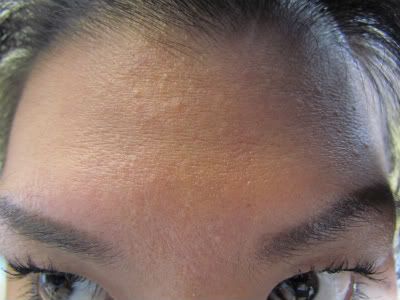 I have never seen my forehead this bad in years...no joke
That big one is actually quite normal right be fore my time of the month, but lately they have been springing up regularly.
These small bumps all over are also quite not normal.
Well...I have been trying to use some new products like Mario Badescu Drying Cream, St. Ive's Green Tea Scrub, Biore Detoxifying Cleanser, and a cream by Clearasil. I am trying to find that balance of products but results can't come any slower if you ask me.
If you have a favorite acne treatment/product, share!!!